As you can probably tell, we're huge Kasie West fans and have been for many years. We eagerly anticipate all of her new releases and love almost everything that she writes. However, there are some books we definitely prefer over others. That's why we ranked Kasie West's books—to help readers know where to start.
This post will be updated when West releases new books—but for now, here are her current YA contemporary books. We left off Pivot Point and Split Second because they are fantasy/paranormal YA. Though that doesn't mean you shouldn't read them though. We're huge fans of her paranormal duology, it's just hard to compare it to the rest of her books because they are so different.
We have a tie for the number one spot because we just couldn't decide between two of West's most dreamy love interests and engaging stories. Let us know your favorite YA books from West in the comments.
This blog post is all about Kasie West's books.
T1. The Fill-In Boyfriend
Gia Montgomery's biggest concern is showing off her hot boyfriend at the prom. Problem is, he dumps her in the parking lot. Instead of telling the truth, she corners the cute guy sitting in his car and gives him a task, to be her boyfriend for a few short hours and then break up with her in front of her friends. Sounds simple, right? It is, until she realizes she can't stop thinking about him after that night and doesn't even know his name.
Honestly the best part of The Fill-In Boyfriend is the guy Gia can't stop thinking about, Hayden. Hayden is genuine, witty and down to earth. Not to mention their witty banter—A+! If this book doesn't leave you swooning by the end then we don't know what will! Not to mention that the supporting characters are fun and leave you wanting to know more about them!
T1. By Your Side
Girl-next-door meets bad boy. The twist? They end up stuck in a library together…overnight. What's more to love? I mean, who doesn't love the bad-boy-trope? The answer is nobody.
The best part about this book is the chemistry between Autumn and Dax. Their banter was everything, and you could tell they both genuinely brought out the best in one another. West tackles some heavy issues in By Your Side, but don't be discouraged—you still get the happy, feel-good ending we've come to know and love from all of West's books. Do yourself a favor and sprint to the nearest Barnes and Noble to get yourself a copy!
3. The Distance Between Us
Caymen Myers knows one thing for sure, she hates rich people. When Xander Spence walks into her mother's doll store, she has her mind made up about him. Despite his interest in Caymen, she believes that he will eventually get bored.
Still, he keeps coming around and she finds herself more and more invested in their possible relationship. Does coming from different worlds mean Xander and Caymen can't be together?
What makes The Distance Between Us so enjoyable is Caymen's dry sense of humor. The witty banter between Xander and her really carries the book, and their chemistry is off the charts. While a quick, easy read, it's definitely a West book you won't want to sleep on. If you don't find yourself falling for Xander by the end of the book…well, then we can't be friends.
4. Sunkissed
Avery Young is used to always letting things go. She hates conflict and will avoid it at all costs. Then, her best friend kisses her boyfriend, who she just broke up with and Avery has had it. A summer away at a lake camp resort with no access to Wi-Fi or cell service came at the perfect time.
Enter Brooks: the charming and off-limits staff member. He wants nothing more than to win a summer music festival prize and prove he's a good enough guitar player to make it his career. The two come up with a deal: Brooks helps Avery branch out over the summer and she helps him write songs for his band.
Sunkissed is the perfect YA summer romance. We loved the lake resort setting and the fact the Avery and Brooks compete in a music festival together. Sunkissed is one of West's best books in years and it showed that she took her time to develop the characters and make the story hard to put down. It's the perfect YA romantic beach read.
T5. Listen to Your Heart
Kate Bailey loves the lake and her family's business. Yet, her parents are always trying to get her to try something new and get out of her comfort zone. Her best friend Alana convinces her to join the school's podcast. Thinking she can work on the technical aspects of the podcast, Kate agrees.
The last thing she expected was to get picked as one of the hosts, dishing out relationship advice to her peers. She is pretty sure one of the first calls she gets is from her best friend's crush, Diego. The problem: she thinks she is falling for Diego, even though she's pretty sure he has feelings for Alana.
Listen to Your Heart was really heartwarming. The friendship dynamic between Kate and Alana was genuine, and we found ourselves rooting for both of them as they figured out their complicated love lives. Instead of pitting one woman against the other, West does a great job of depicting a true friendship in which both women are supportive of one other! Not to mention that Diego is swoonworthy. I mean, who doesn't love a man who can cook?
T5. On the Fence
Charlie isn't like most teenage girls, she's raised by a single dad and has three older brothers, plus an honorary fourth: the hot boy next door, Braden. When she gets another speeding ticket at the beginning of summer, her dad says he is done bailing her out and forces her to get a summer job. The only place that will hire Charlie is a clothing boutique. Quickly, Charlie is thrown into the world of fashion and makeup, things she knows nothing about.
Charlie makes friends with a group of girls through her job, ones who know the difference between lip gloss and lip stick and have never thrown a football in their lives. When hanging out with them, Charlie notices the attention they get from guys. She comes to believe that guys would never be interested in the real her. Especially Braden, who she's been spending more time with late at night, when the two speak at the fence dividing their yards.
The boy-next-door, Braden, is the best part of this book. As Charlie tries to be someone she isn't just to get a guy and approval from her new friends, Braden calls her out on the BS and keeps her honest. Overall, On The Fence is a cute read and you'll find yourself cheering for Charlie as she struggles to find herself…and her happy ending!
7. Borrow My Heart
Wren loves to stick to her rules. She always has a plan and rarely ever deviates from it. But one afternoon when she is sitting in a coffee shop, she overhears a guy getting destroyed by his best friend for getting catfished. So what does she do? She pretends to be Gemma, the fake girl online, so this guy doesn't become a laughing stock. But she didn't expect to like Asher, especially since he's the exact opposite of her.
After they meet in the coffee shop, Wren thinks she won't see Asher and his obnoxious friend Dale again. Until he shows up at the animal shelter where she works and learns that her name is Wren, not Gemma. Now Wren is fake dating a guy she knows nothing about.
Borrow My Heart is such a cute and sweet YA contemporary romance. First of all, we want to say how much we appreciate that West is advocating for rescue animals. Adopt don't shop! The shelter ended up being the perfect way for Wren to let her guard down because it showed her that Asher was a good guy. We shipped the two of them together from the beginning, even though we appreciated that their romance was slow-burn. If you're an animal lover and looking for a sweet romance, pick up Borrow My Heart.
8. Places We've Never Been
Norah Simons and Skyler Hutton were best friends. But when Skyler and his family moved from California to Ohio, Noah and Skyler lost touch. Four years later, their moms sprung a road trip on them. The Simons and Huttons are spending a few weeks in two RVs going around the western United States.
Places We've Never Been being set during he span of the road trip had us ready for a big summer adventure. While we're not RV people, we really loved seeing the different places the characters visited, including Yosemite National Park and Seattle, Washington. We're always up for YA books with travel as a key plot point.
The trip also became the perfect way for Norah and Skyler to reconnect through different experiences, such as white water rafting. Even when the two were fighting, we could tell they had a spark. They're connection only became more apparent as the story went on. Skyler wasn't our favorite Kasie West love interest, that's Hayden Reynolds, but we did find him funny and adorable.
9. Fame, Fate and the First Kiss
Lacey Barnes finally landed a role in a Hollywood movie—her dream job. The one thing she doesn't want to deal with is school work. So when Lacey keeps blowing off her assignments, her dad hires her a relentless tutor…enter dreamboat, Donavan.
Lacey and Donavan's relationship shifting from dislike to like was a lot of fun to read. The only problem with the storyline was that Lacey was being sabotaged on set. When Lacey found out who was sabotaging her, it felt like a bit of a letdown.
West built up this plot point, just for the person behind the subterfuge to not have that great of a reason for their actions. Overall, we rate Fame, Fate and the First Kiss a B: read it when you're on a plane or snuggled up with some blankets on a lazy Sunday afternoon.
10. P.S. I Like You
When Lily writes song lyrics on a desk in her Chemistry class, she doesn't expect for someone to continue the lyrics. She's intrigued to learn who the mystery person that shares the same taste in music as her is. The two start writing notes to each other about everything, opening up about aspects of their lives that they can't say out loud.
The overall idea of the story of two people communicating through a school desk is fun. Also, reading about two characters who hate each other realizing that the line between love and hate is thinner than they thought is enjoyable. But, P.S. I Like You fell short in a few ways.
First of all, how did Lily and her mystery man not find it…I don't know…weird…that they were sharing private aspects of their lives for anyone to see ON A DESK!? Second, the mystery man (no, we won't give it away!) was kind of a jerk— and not necessarily in a hot way. Sure, he was a flawed human just like the rest of us, and he eventually learned from his mistakes, but we felt like he could have had more character growth. Finally, Lily was oblivious as heck and there were times where we genuinely wondered how she did not crack this mystery sooner. The constant miscommunications between the two main characters got old after a while.
11. Love, Life and The List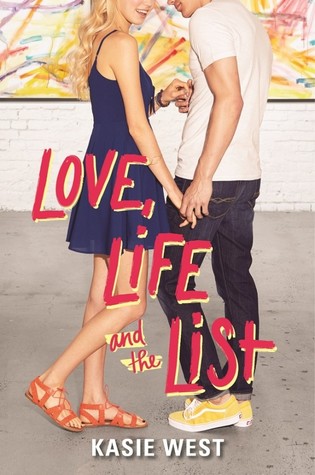 Abby Turner wants nothing more than to get into an amazing art program over winter break. To do so, she needs to be featured in an art show. The museum she works at has an art show every summer and she is determined to have her work featured in it this year.
The problem: her boss thinks her works lacks heart. Abby has a few short weeks to work on the emotional side of her art, which she does by making herself try a ton of new things—hence the "List" portion of the title. Her best friend, Cooper, decides to help her out, which only makes for another problem: Abby has been in love with Cooper for a long time and she knows her feelings aren't reciprocated. Queue the dramatic music.
Abby's family is the best part of Love, Life and the List. Her grandpa was a riot, and we low-key found ourselves wanting him to be a bigger part of the book. Her mom also had good intentions, but the way she treated Abby was flawed.
The worst part of this book was Cooper and how he treated Abby for the better half of the book. If Cooper had pulled what he did to Abby on one of us, he would be gone. All in all, the ending was satisfying, but it left us wondering how and why Abby even liked Cooper in the first place.
T12. Maybe This Time
Sophie Evans wants nothing more than to get out of her sleepy southern town and be a fashion designer in NYC. To save for college, she works for the town florist, where she is forced to decorate every town event.
At the annual Senior's Valentine's Day party, Sophie meets Andrew Hart, son of famous (and jerky) chef, Jett Hart. Jett happens to be working with Sophie's best friend's dad to grow his catering business— meaning the "obnoxious" new guy will be sticking around for the next year.
The story is told over the course of an entire year, starting on Valentine's Day and ending on New Year's. Sophie and Andrew are thrown together at nine different events, where readers see if their initial hatred for each other could turn into friendship…or maybe something more.
To say we are disappointed in Maybe This Time book is an understatement. Don't get us wrong, we adore West's books for the most part. Out of all her books, this is only one of two that we didn't love.
Overall, West's latest book is not a fun-to-read YA Contemporary Romance. The constant negativity in the book made this one hard to finish. Our final thoughts: Andrew, wake up, you were too good for Sophie; go back to NYC and enjoy the winter weather.
T12. Lucky In Love
Lucky in Love is the other book from West that we both really didn't enjoy. Maddie wins the lottery on her 18th birthday and her life changes forever. The girl who carefully made decisions and focused on her studies is now recklessly spending her money to make herself more popular.
Honestly, her family was the absolute worst. Her brother didn't care about her at all, yet kept asking for money so he would never have to work a day in his life. Her parents were self-absorbed and didn't teach Maddie how to make a financial plan.
Honestly, the characters weren't likeable and there wasn't much of a plot. The only redeemable character was Seth, her co-worker from the zoo. Do yourself a favor and pass on this one.