Do you love traveling? So do we. In fact, since we don't get to travel as much as we'd like, we find ourselves traveling through books.
We came up with a list of our 15 favorite young adult books set in Europe. We promise, reading these books will give you major wanderlust. Get inspired to visit some of our favorite cities, which include Paris and London.
Did we miss any of your favorite books set in Europe? Let us know in the comments.
This blog post is all about the best YA books set in Europe.
1. Anna and The French Kiss by Stephanie Perkins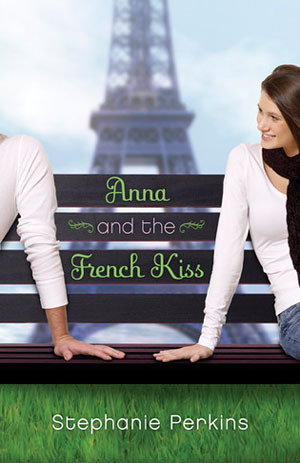 Anna Oliphant is forced to leave Atlanta and spend her senior year of high school at a boarding school, the School of America in Paris (SOAP). At first she hates the idea of leaving her mom and brother, her best friend, and her crush (and hopefully future boyfriend.)
Upon arriving at SOAP, she quickly joins a group of friends that helps her explore the City of Lights and get over her fear of living in a foreign country. Almost instantly, Anna develops feelings for a member of the friend group, the charismatic, gorgeous (and very taken) Étienne St. Clair. Their friendship is tested when the two discover if being more than friends is in their future.
First of all, swoonworthy romances in Paris are a must. The scene in Anna and the French Kiss when Étienne takes Anna to Point Zero will make you want to rush in front of the Notre Dame immediately to make a wish.
Over the course of the year, Anna discovers many of Paris's hidden gems, including the city's eclectic film scene. Our advice: Head to Paris to find your own Étienne and make sure to visit all of the places Anna does throughout the novel!
2. The Conspiracy of Us Series by Maggie Hall
The Conspiracy of Us trilogy follows Avery West's adventures as she goes from an average American teenager to pawn of a powerful secret society called the Circle of Twelve. At a high school dance, she is ambushed by Jack and Stellan, two teenagers who work for the Circle of Twelve. Note: Jack is British and Stellan is Russian. Talk about book boyfriend goals.
Despite her fear of going off with two strangers, Avery knows the boys can provide her with information on her family (who happen to be one of the twelve families). Avery is whisked off to Paris, where she soon realizes that these people are more dangerous than she thought.
She then finds out she's a part of their prophecy and is determined to piece it together before anyone she loves is hurt. Follow the clues of an ancient puzzle that goes back to the time of Alexander the Great.
If you're interested in multiple European destinations, this series is for you. Avery first visits Paris, but later finds herself traipsing around European destinations like Istanbul, London, Venice, Cannes, and the Greek islands. Travel to all the places Avery hits throughout the series and pretend to solve an ancient international riddle— maybe you'll even find a hot Brit and Russian along the way.
3. Wanderlost by Jen Malone
Aubree Sadler just graduated high school and cannot wait for a relaxing summer at home. Unfortunately, her plans are ruined when her college graduate sister gets arrested and it's partially Aubree's fault. Her sister is supposed to spend the summer as a European tour guide for a group of senior citizens and, if it all goes well, it will lead to a recommendation for a great job.
Since her sister's court date is scheduled during the trip and she was released on bail with the exemption of not leaving the country, Aubree has to go to Europe and pretend to be a 21 year-old cultural expert. Problems quickly arise when Aubree loses her phone and itinerary and one of the senior citizens gets injured. The injured senior citizen just happens to be the travel company owner's mother.
The owner sends her son Sam to lookout for his grandmother. Since she's pretending to be her sister, Aubree cannot fall for him, but she can't help to develop feelings for him as he shows her some of the most beautiful places in Europe.
The best ways to describe Wanderlost are fun and light-hearted. Aubree gains a lot more confidence once she's thrown out of her comfort zone as she explores Amsterdam, Braubach, Salzburg, Vienna, Prague, Venice, Cinque Terre and Monaco.
The cast of characters makes this an unconventional way to see Europe, but Aubree develops friendships with these senior as they do fun excursions, like the Sound of Music tour in Salzburg and ride in a Lamborghini in Monaco. After reading this, how could you not want to travel through Europe by bus?
4. Love & Gelato by Jenna Evans Welch
Florence is a dream destination, but not for Lina Emerson. Her mom recently died and now she's forced to spend the summer living in a house located inside a cemetery with a friend of her mother's, whom she has never even met.
When she arrives, she's given her mother's journal from when she lived in Italy and goes off on a journey to discover what happened in the past and learn more about her father. Soon after she arrives, she meets Ren, an Italian-American guy who lives close by and goes to the school she would attend (if she decides to stay past summer). Using her mother's journal, Lina and Ren embark on a journey to discover the places of her mother's past.
Unexpectedly for Lina, she falls in love with Florence and explores city gems, such as il Duomo and Ponte Vecchio. When finding the truth about her mother's past feels painful, she has Ren and Howard to pick up the pieces.
People come to Italy for love and gelato, Lina stayed to create a new life with Howard and explore a romance with Ren. However, the beauty of Tuscany and the fantastic Italian cuisine must have also helped with her decision. Seriously, go try every flavor of gelato, eat a Margarita Pizza and sip a cappuccino. Finding an Italian guy to buy you this incredible food couldn't hurt.
5. Isla and the Happily Ever After by Stephanie Perkins
Perkins brings us back to the School of America in Paris (SOAP), where minor characters from Anna and the French Kiss get their own love stories. Isla Martin has had a crush on introverted Josh for years. During the summer they had a random encounter in Manhattan, which gives Isla hope as they return to Paris for their senior year. Isla and Josh form a close friendship and eventually begin dating. Readers follow them on their romance as they visit iconic Parisian sites.
Isla's experiences in Paris are quite different from Anna's. Isla's mother is from Paris, so you see the city through the eyes of someone very familiar with it. She shares her favorite landmarks, restaurants, and hidden gems of Paris.
A bonus of this story is Isla and Josh's impromptu excursion to Barcelona, Spain for a romantic getaway. Take the train from Paris to Barcelona and fall in love with the scenery. If artistic introverts are more your type, go to Paris to find your Josh (not Étienne).
6. The Heir and The Spare by Emily Albright
The Heir and the Spare is the perfect read for anyone obsessed with the British monarchy. Evie's journey takes the reader through England from London to the countryside. Readers will hop on a plane across the pond and hope to stumble upon a royal romance of their own. Since Harry and Will are taken, maybe you'll find a Lord or a Duke instead.
American Evie Gray starts college at her deceased mother's alma mater, Oxford University. She receives letters with missions and every time she completes one, she receives another letter. With her mother's letters, Evie is determined to learn more about her mom's side of the family.
To help her get adjusted to her new life abroad, Evie joins a friend group. The charming and kind Edmund looks familiar at first, but Evie cannot place where she's seen him before. Edmund turns out to be the spare prince, the one not in direct line for the thrown. As he helps Evie discover her family secrets, they wonder if a relationship between a (supposed) commoner and a royal can ever work.
7. Paris, Modigliani and Me by Jacqueline Kolosov
You didn't get into your dream art school, so now what? After not getting into her top choice college, Julie Hankla reevaluates her plans for the future, while experiencing the Parisian art scene. Julie moves to Paris for the summer to be an au pair for her mother's best friend's daughter Genevieve.
Genevieve, a fashionable and spunky 10 year old, helps Julie move forward and discovery the beauty of a new city. While exploring, she comes across two different guys she cannot help having feelings for. Clay, the American who travels the city with Julie and Genevieve and Luc, the bad boy artist who everyone tells her to stay away from.
Along with deciding between two guys, Julie also has to choose whether or not to contact her father, a French man who she has never met and doesn't know she exists. Through all of the choices she must make, the most interesting part of the summer occurs when the art galley that Genevieve's mom works at acquires a Modigliani, one of Julie's favorite artists.
As a result of a lot of research, Julie believes that Modigliani's wife, Jeanne was actually the artist behind the painting. Explore Paris with Julie as she makes choices regarding her future, her love-life and whether to see her father, all while discovering the truth about Modigliani's past.
Julie's description of Paris will have you on a flight ready to check out the city's eclectic art scene. Follow her to important spots, such as the Louvre, Shakespeare and Co., as well as small local galleries and antique shops. We also suggest you take Genevieve's fashion advice and go to Bon Marche and other fabulous department stores to learn about icons, like Coco Chanel. After Paris, Modigliani and Me, you'll feel the need to soak up the culture and max out your credit card.
8. The Summer of Us by Cecilia Vinesse
Best friends Aubrey and Rae don't have much time before they have to leave London and move to different continents for college. Before they go, they have two weeks to explore Europe with their three other friends, Jonah, Gabe and Clara.
They have been day dreaming about train rides that will take them from London to Paris, Amsterdam, Prague, Barcelona and Rome. The perfect trip takes an unexpected turn when Aubrey and Jonah breakup and she is forced to deal with her past feelings for Gabe. Gorgeous European cities provide the back drop for the drama and romance this friend group must endure before they all go their separate ways.
The Summer of Us will inspire you to text your closet friends and start planning an adventure across Europe, minus the drama. Plan to stroll along the canals of Amsterdam, take in the Gaudi architecture of Barcelona and gawk at the Colosseum in Rome. Our advice: If you're planning a group trip, make sure you know who you want to date before embarking. Enjoy this book on a long train ride between two amazing European cities.
9. One Paris Summer By Denise Grover Swank
Having to deal with her parents' divorce and her dad's new romance, Sophie Brooks and her brother travel to Paris for the summer to see him get remarried. She doesn't want to meet the new woman in her dad's life, or her daughter for that matter. Since her dad is so busy, Sophie has to spend time with her evil step-sister Camille, who is determined to make Sophie's life a living hell.
To make matters worse, her dad promised to get her a real piano to practice on (he didn't!), so she can get ready for an elite scholarship competition. After a few encounters with a cute French guy named Mathieu, Sophie finds herself enjoying Paris more, particularly when she discovers that his mom is a piano instructor at a conservatoire and she can practice the piano at his apartment. However, falling for him is hard, considering he's a friend of Camille's and he doesn't want Camille to know that he and Sophie have been spending time together.
Sophie starts out as this shy and naïve girl, afraid of being in a foreign country and not willing to experience the culture. Once Sophie starts spending time with Mathieu, her confidence grows and she finds herself loving Paris more than she ever thought possible.
One Paris Summer is great to hear about places in Paris that aren't the Eiffel Tower. This book takes you to locations such as Jardin du Luxembourg, Musee D'Orsay, Musee Rodin, Saint Chapelle and other amazing sites. One Paris Summer will have you searching the winding cobblestone streets for a Parisian guy like Mathieu to show you the city and teach you French. Je voudrais un pain au chocolat s'il vous plait.
One thing we had to mention is that while Swank knew Paris very well, we noticed she didn't know the difference between a macaron and a macaroon. Please look up the difference before ordering at a French bakery.
10. The Statistical Probability of Love at First Sight by Jennifer E. Smith
Like One Paris Summer, The Statistical Probability of Love at First Sight has Hadley traveling to Europe to see her dad for the first time since her parents divorced has been finalized. The purpose of this trip to London: watch her dad marry a woman he met not too long ago.
Hadley just missed her plane by a few minutes and then is forced to take a later flight. When wasting time at the airport, Hadley meets Oliver, a British student studying at Yale, who is going back to London to visit his family. The two end up having seats next to each other on the plane and spend most of the flight getting to know each other.
Before going their separate ways at the airport, Oliver kisses Hadley, which leaves her replaying their twelve hour romance. The problem: she doesn't even know his last name or where to find him, but that doesn't stop her from sneaking out right after the wedding to search London for him.
While the plot at times can be slow, the sweet story of falling for someone on a plane will have readers fly to Europe asap. Even though Hadley doesn't see too much of London, she becomes enamored by the beautiful architecture. Spend more time in London than Hadley did and try to find a cute British guy to give you the tour.
11. Love & Olives by Jenna Evans Welch
The companion book to Love & Gelato, Love & Olives follows Olive (Liv) Varanakis on her summer adventure to Santorini, Greece. Liv doesn't want to spend her summer away from home, but her mom is forcing her to spend quality time with her dad, who is making a documentary on Atlantis for National Geographic.
Even though Liv is angry with her father, she can't help but fall in love with gorgeous Santorini. From the beaches, to the sites, there's something around every corner. And because of her new cute friend Theo, this summer may turn out better than expected.
Santorini is such an incredible city and it makes for an amazing backdrop. We love the Atlantis aspect of Love & Olives because the locals really do believe this small island way the site of the infamous lost city. The romance is also adorable. But most importantly, the story is about family and forgiveness.
12. I Must Betray You by Ruta Sepetys
You might be surprised that we included I Must Betray You, which is different from every other book on this list. Why did we add a historical fiction book about a revolution? Because Romania is an incredible country that deserves to be highlighted, even with it's dark history.
Through the story of a regular guy, Cristian Florescu, Sepetys paints a picture of the struggles during communism, while the elite lived lavish lifestyles. While we haven't visited Bucharest, Romania, it's on our list. We highly recommend this book and diving into the historical accuracies. Sepetys even includes pictures of the country in the book.
13. Love & Other Great Expectations by Becky Dean
Britt Hanson's life changed when her doctor said she could never play competitive soccer again. Enter Ms. Carmichael, who gathered Britt and three other students for an opportunity of a lifetime: fly to London over the summer to participate in a literary scavenger hunt. The winner will receive 100K.
Fast forward a few weeks and Britt arrives in London with the other students. Quickly, Britt finds clues that lead her to historic Oxford, popular Bath and to the lively Edinburgh as she goes on path of self-discovery while learning about the most memorable authors in British history.
If you want to see a lot of England and Scotland (and not just London), Love & Other Great Expectations is for you. It's perfect for people who love travel and literature, with a fun scavenger hunt thrown in.
14. London Prep by Jillian Dodd
London Prep is an on-going series that follows Mallory James, a wealthy girl from NYC who is doing an exchange in London. Little did Mallory know that this exchange would change her entire life. While she loves London, she's not sure if she's ready for everything that's in store for her.
Mallory takes us all through London, from historic sites to some of the best shopping destinations. It's also interesting to see how Mallory adjusts to living in a foreign country. Since she tried to adapt her normal routine to the London, you'll see her take runs through Hyde Park and look for the best restaurants.
Not only does this series have a great setting, it also has an amazing romance and friendships. It's a lot of fun and will make you want to plan a trip ASAP.
15. Hot Dutch Daydream by Kristy Boyce
Ready to spend the summer in Amsterdam with Sage Cunningham? Sage was a supporting character in Hot British Boyfriend and now we get to read her story.
Sage is spending the summer nannying in order to earn the money the attend a medical conference in Berlin, Germany. She didn't expect her host family to have a son her age. Enter Ryland, who is exact opposite of Sage in every way. She didn't expect to fall for Ryland, but there's something about him that makes her crazy.
Explore the canals of Amsterdam with Sage as she tries to balance her future career plans with romance. This book will make you see the magic of Amsterdam and start looking through picture online as you're reading.