We used common college majors to help you pick your next read. Sorry we couldn't find a book for every college major out there. Let us know you thoughts on these books in the comments. Also, tell us what you are majoring in, will major in or majored in!
1. Business/Marketing: Summer Constellations by Alisha Sevigny
The family business is hurting and Julie Ducharme doesn't know what to do. The last thing she wants is for her mother to sell the camp ground lake property. Except, with her brother's recent illness and her mom's debt, it might be the only option. To make matters worse, her crush Dan returns for the summer with a new girlfriend.

One night while looking at stars on the dock, Julie runs into Nick Constantine, a cute guy playing guitar. Instant sparks fly between the two and for the first time, the summer looks hopeful. However, Nick's dad is a developer who wants to turn the lake into a casino resort. Nick doesn't want to be associated with his dad's project and tries to help Julie keep the family business. Can she truly ever trust him?

Summer Constellations is really great for family relationships. Julie is very protective of her bother Caleb. Caleb and Nick developed a friendship that made the romance in the story even more genuine. While the romance makes you want to spend the summer at a lake with a hot guy, Julie's first priority is her family. Julie enlists Nick and her family to come up with marketing ideas to boost the family business to prevent selling to the developers.
2. Journalism/Communications: Sophomore Year is Greek to Me by Meredith Zeitlin
Zona Lowell has always wanted to be like her big-name journalist father. His latest story requires him to move to Athens, Greece for six months. Angered at the thought of moving, Zona accuses her dad of trying to force her into spending time with her deceased mother's family, who happen to live close to Athens. She never expected to actually like these relatives who shunned her dad and learn about an amazing culture.
Sophomore Year is Greek to Me is a fun story for future journalists. Zona uses her new experiences in Greece to write practice articles. The best part is that you get to read her work. Hopefully this inspires you to go on an adventure and act like you're a Pulitzer Prize recipient. 
3. International Relations/Global Politics: The Conspiracy of Us by Maggie Hall
If you want to study relationships between states and why countries act the way they do, then pick up the Conspiracy of Us trilogy. This series follows Avery West's adventures as she goes from an average American teenager to pawn of a powerful secret society called the Circle of Twelve. This society controls everything—politics, foreign relations and society.
At a high school dance, she is ambushed by Jack and Stellan, two teenagers who work for the Circle of Twelve. Avery is whisked off to Paris, France, where she soon realizes that these people are more dangerous than she thought. She then finds out she's a part of their prophecy and is determined to piece it together before anyone she loves is hurt. Follow the clues of an ancient puzzle that goes back to the time of Alexander the Great. 

4. Political Science: The Wrong Side of Right by Jenn Marie Thorne
Imagine living your whole life knowing nothing about your father and then suddenly, one day, you learn he is a U.S. Senator currently running for president. In The Wrong Side of Right Kate Quinn gets thrown into the political spotlight over night. At first, Kate doesn't have strong policy opinions because she never learned about political science. However, the more time she spends with the her father and his hardliners, the more she realizes that they don't see eye to eye.
Problem 1: Her dad is anti-immigrant and Kate's best friend is undocumented. Problem 2: Her dad is running against incumbent President Lawrence, who has a son her age named Andy…and he's pretty cute. Kate has to learn that Washington D.C. isn't always forgiving and that the seemingly picture-perfect family might be too much to handle. After all, there is no such thing as perfect, even though her U.S. Senator father expects her to be. 
5. Theatre: Fame, Fate and the First Kiss by Kasie West
Like many aspiring actors, Lacey Barnes has spent years auditioning for movies. Finally, she's cast in a Zombie film opposite movie star Grant James. However, Lacey is still in high school. The one thing she doesn't want to deal with is school work. So when Lacey keeps blowing off her assignments, her dad hires her a relentless tutor…enter dreamboat, Donavan.
Lacey has to deal with someone breaking into her dressing room, messing up her wardrobe and stealing her props. She pretty much accuses most of the movie staff before enlisting her friends to catch the culprit. For anyone who dreams of becoming an actor, Fame, Fate and the First Kiss is the perfect read. Lacey learns how to balance work, school, friends and maybe…a relationship. 
6. Art: Paris, Modigliani and Me by Jacqueline Kolosov
All artists know it is difficult to break into the profession. Julie Hankla got rejected from her dream art school and has to reevaluate what is next. Julie reevaluates her plans for the future, while experiencing the Parisian art scene and being an au pair to fashionable 10 year old, Genevieve. Through all of the choices she must make, the most interesting part of the summer occurs when the art galley that Genevieve's mom works at acquires a Modigliani, one of Julie's favorite artists. As a result of a lot of research, Julie believes that Modigliani's wife, Jeanne, was actually the artist behind the painting. Explore Paris with Julie as she makes choices regarding her future, her love-life and whether to see her father, all while discovering the truth about Modigliani's past.
7. Psychology: The Naturals by Jennifer Lynn Barnes
The Naturals tells the story of gifted seventeen-year-old profiler, Cassie, who is recruited with other teens for the FBI's newest project, the Naturals program. The Naturals program recruits only the best and brightest teens. Their task? Unlocking infamous cold cases using their special talents. Among the cast of characters is sarcastic Michael, who can read emotions, and broody Dean, who is also a gifted profiler. When a killer strikes, Cassie is sucked into a dangerous case that closely resembles that of her own mother's murder a decade earlier.
This story was very well written! The author is a psychiatrist, so Barnes infuses the story with insights into profiling. We love a good murder mystery, and this book did not disappoint! If you love psychology and thrillers, then this is the book for you.
8. History: My Lady Jane by Cynthia Hand, Jodi Meadows and Brodi Ashton
My Lady Jane is a re-imagining of real historical events. The book tells the story of King Edward of England, a sixteen-year-old monarch being poisoned by his uncle. Edward has arranged for his brainy cousin, Jane (Lady Jane), to marry Gifford, a noble. The only problem? Gifford is an Eðian, meaning he has the ability to turn into an animal. Those possessing this gift are ostracized in society, and little does Jane know what her life holds with her new husband. Jane, Edward, and Gifford are drawn into a dangerous conspiracy and they must fight to save the Kingdom of England before they lose power. 
This book is a fun take on history and readers will be sucked into the ins-and-outs of England's royal hierarchy. The banter between the characters is fabulous, so definitely do not miss out on this one! 
9. Sociology: The Maze Runner by James Dashner
Thomas wakes up in the Glade and he cannot remember anything, except for his name. Outside the Glade is a maze that continues to change. At first he is trapped with only guys around his age. But eventually, one single girl is placed in there with them. They have no idea why they are there and must all band together if they ever want to escape.
We don't want to give away too much, but The Maze Runner trilogy is about a sociological experiment. Some people have control over how everything will play out and Thomas and his friends are their pawns. Anybody who studies sociology will be interested in how certain people react when they are pushed to their limits. After all, everyone has a breaking point.  
10. World Religions: Internment by Samira Ahmed
Turn on the news and you'll hear about people being discriminated for their religion. It's not uncommon in the world. However, Ahmed writes about a not so distant future America. One where Muslims are put into internment camps. Layla Amin and her family are trapped in the camp. Her goal: get out and go back to her life of freedom.
This book definitely touches on historical themes from Executive Order 4066 during World War II. She touches on the fact that those who refuse to learn history are doomed to repeat it. This is a perfect read for a world religions major because Internment highlights the fears that people posses in this country because of discrimination. 
11. Computer Science: Warcross by Marie Lu
Talented teenage hacker, Emika Chen, works as a bounty hunter. She tracks down Warcross players— the latest gaming obsession— who bet on the game illegally. To make some extra cash, Emika hacks into the opening game of the international Warcross Championships, but is accidentally glitched into the game and finds herself joining a Warcross team after being approached by the game's creator, Hideo Tanaka. He offers her the chance to spy on the tournament from the inside to uncover the security breach that allowed Emika to glitch into the game. What she uncovers is beyond her wildest dreams and may put her in danger. 
This book goes super in depth into hacking and computer science methodologies. The world of hacking is an exciting one and Amika's skills were impressive. Not to mention that her quick wit and intelligence made her a super badass MC. 
12. English/Creative Writing: Again, But Better by Christine Riccio
Shane wants nothing more than to do creative writing for a living, but her parents want her to be a doctor. This forces her to lie to not only her family, but everyone around her; and her dream of succeeding at her internship at a magazine and becoming a writer is out of reach. Readers follow Shane on her adventures around Europe, where she makes new friends, falls in love, discovers herself…and fails (like, epically) along the way. Shane's 2011 semester abroad may have come to a close in the first half of the book, but this definitely was not the end for Shane and her adventures! She gets a chance to redo her past.
Again, but Better gave us major 17 Again vibes, which we didn't hate! We admit, the time travel aspect of the plot was unexpected, but thoroughly enjoyable. Riccio had us engaged the entire time and we were rooting for Shane on her journey of self-discovery. If your dreams are to be a creative writer and you don't have family support, you'll relate to Shane. She has to realize that she cannot live her life according to her parents unrealistic goals.
13. Foreign Languages: Wanderlost by Jen Malone
Aubree Sadler never left the country, doesn't speak a foreign language and has no desire to leave her comfort zone. Unfortunately, her older sister was supposed to be a tour guide in Europe, but when she faces legal trouble, Audree must go in her place. Problems quickly arise when Aubree loses her phone and itinerary and one of the senior citizens gets injured. Plus, the bust driver only speaks Spanish, which Aubree's sister is fluent in! The injured senior citizen just happens to be the travel company owner's mother. The owner sends her son Sam to lookout for his grandmother. Since she's pretending to be her sister, Aubree cannot fall for him, but she can't help to develop feelings for him as he shows her some of the most beautiful places in Europe. Sam spent his life traveling and is fluent in many languages. 
Aubree gains a lot more confidence once she's thrown out of her comfort zone as she explores Amsterdam, Braubach, Salzburg, Vienna, Prague, Venice, Cinque Terre and Monaco. By the end od Wanderlost, she has an appreciation for travel and even wants to learn the languages she heard through her journey. 
14. Chemistry: The Distance Between Us by Kasie West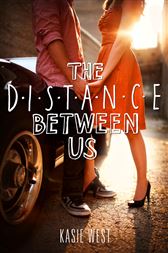 Caymen realizes her future is planned out for her, to take over her mother's doll shop. However, Caymen dreams of going to college and majoring in Chemistry. When Xander Spence walks into her mother's doll store, she has her mind made up about him. Despite his interest in Caymen, she believes that he will eventually get bored. Still, he keeps coming around and she finds herself more and more invested in their possible relationship. Xander is being forced into his family business too, so they decide to help each other learn about their interests by planning "career days."
This book talks about chemistry, the subject and relationship chemistry. While a quick, easy read, it's definitely a West book you won't want to sleep on. If you don't find yourself falling for Xander by the end of the book…well, then we can't be friends. If you want to read a book about an intelligent, dry-humored, girl interested in STEM, The Distance Between Us is for you. 
15. Pre-Med/Biology: American Panda by Gloria Chao
Seventeen year-old Mei is a freshman at MIT studying pre-med. Her parents have high expectations for her: become a doctor, marry a pre-approved Taiwanese Ivy leaguer and have kids. She is afraid to tell her parents the truth: that she is afraid of germs, hates biology, and has a crush on Darren Takahashi, her non-Taiwanese classmate. Searching for support, she reconnects with her brother, Xing, who is estranged from their family after dating the wrong type of woman. 
This book touches on the reality of being pre-med in college and definitely provides some inside knowledge! The book is taking the YA world by storm, so don't skip out on this one! if you do major in biology/pre-medicine, make sure you do it for yourself and not your family! 
16. Philosophy: Aristotle and Dante Discover the Secrets of the Universe by Benjamin Alire Sáenz
Aristotle (Ari) and Dante initially believe they have nothing in common. Two different teens meet at a pool and their lives change forever. Ari struggles with the fact that his brother is in prison. Dante can be arrogant and egotistical. Together, the two discuss their struggles with identity.
Those who study philosophy will love the deep discussion between these two. "Another secret of the universe: Sometimes pain was like a storm that came out of nowhere. The clearest summer could end in a downpour. Could end in lightning and thunder." Contemplate the meaning of life with Ari and Dante as they try to find themselves.
17. Criminal Justice: Truly, Devious by Maureen Johnson
Resident true crime expert, Stevie Bell, attends the Ellingham Academy— site of the infamous Ellingham kidnappings of the early 1930's. The case's only real clue was a mocking riddle signed by 'Truly Devious.' Flash forward to modern time, and no one has solved the case— that is, until Stevie Bell makes the decision to attend the Academy with the sole purpose of busting it wide open. Stevie's plan is complicated when a new murder occurs on campus. Will Stevie solve the mystery of Truly Devious and the latest Ellingham murder before its too late?
Truly Devious literally had us on the edge of our seats wanting more. The second book is even better than the second, and we gobbled this story up. If you love criminology and crime solving, then this is the book for you. Stevie is a first-class sleuth and she goes into detail about how to solve a crime. Do yourself a favor and read this ASAP! 
18. Broadcasting: Listen to Your Heart by Kasie West
Kate Bailey loves the lake and her family's business. Yet, her parents are always trying to get her to try something new and get out of her comfort zone. Her best friend Alana convinces her to join the school's podcast. Thinking she can work on the technical aspects of the podcast, Kate agrees. The last thing she expected was to get picked as one of the hosts, dishing out relationship advice to her peers. She is pretty sure one of the first calls she gets is from her best friend's crush, Diego. The problem, she thinks she is falling for Diego, even though she's pretty sure he has feelings for Alana.
Kate realized throughout Listen to Your Heart that trying new things could be fun and exciting. She builds up confidence and wonders if podcasting, or other careers in the broadcasting area, could be for her. Plus, Diego helped her build up this newfound confidence and serves as a swoonworthy love interest. 
19. Math: A Girl Named Digit by Annabel Monaghan
Farrah "Digit" Higgins is a high school genius and major math geek. Off to MIT in the fall, Digit is just trying to get through her senior year of high school. When Farrah unknowingly cracks a terrorist group's number sequence, she gets sucked into a dangerous game. She tries to solve the case herself, but runs into trouble when the terrorists catch on to her. With the help of a young, hot FBI agent, Digit tries to solve the case and make it through senior year in one piece…literally. 
A Girl Named Digit is super interesting if you love code cracking and numbers. Farrah is a literal genius, and the author does a good job of weaving in math/probability insights into the narration. Definitely read this book if you love a fast-paced action book!
20. Intelligence Analysis: I'd Tell You I Love You, But Then I'd Have to Kill You by Ally Carter
A cult classic YA series, Ally Carter's Gallagher Girls series tells the story of Cammie Morgan, a student at the Gallagher Academy for Exceptional Young Women. The Gallagher Academy most definitely is not your typical school— its an academy for spies in training.  Cammie tries to piece together the mystery behind the death of her father, a fellow spy. She also finds herself in a number of "thrilling" situations, and you are left desperately waiting to get your hands on the next book. Lucky for you, this is a long series, and you will most definitely gobble them all up! 
This series (though unrealistic at times) gives you a quick peak into the life of a spy! The girls are literal geniuses and Carter does a fabulous job of demonstrating surveillance techniques, etc. Definitely pick this series up!
21. Greek/Latin Translation/Mythology: The Covenant Series by Jennifer L. Armentrout
This was the first JLA series we both read, and trust us when we say it is fabulous! Claire ranks this series in her top five favorite books of all time. The series is a mix of action, Greek mythology, and romance. What would happen if Greek gods and mortals produced children? Well, in this story, it is definitely possible, and their descendants are called hematoi. 
Seventeen-year-old Alexandria is a half-blood, the daughter of a pure blood hematoi and a human. Alexandria attends the Covenant, a special school for pure bloods and half bloods, located in North Carolina. Half-bloods can either train to become Sentinels who hunt daimons or become servants in the homes of pure bloods. After her mom– a pure blood– is captured by daimons, Alex will stop at nothing to get her back. Along the way, she falls for her hunky instructor, Aidan (*Swoon*) and discovers she has some crazy freaky powers. As it turns out, Alexandria's fate was written by the Gods, and her life changes forever once she discovers the secrets behind her powers.
This series is action packed from start to finish! You will find yourself completely immersed in Greek mythology, and we guarantee each book will leave you dying for the next. There are also translations of Ancient Greek prophecies, which are very interesting. The romance in this series is A+++, and Aidan is one of Claire's top YA love interests of all time. The ending to the series was also beautiful. Do yourself a favor and definitely pick this series up! 
22. Music: Love Songs and Other Lies by Jennifer Pennington
Vee Miller manages her friend's band, while secretly writing her own music and posting songs online anonymously. When her best friend's band gets offered a spot on a TV show for discovering the next great band, he offers Vee a chance to be an intern on the show. There's only one problem…her friend forgot to tell her that her ex-boyfriend, who left without a word, recently joined the band.
Love Songs and Other Lies is about first love, second chances and going after what you want. Anyone interested in the music industry will want to follow Vee's journey to find the courage to play her own songs.  
23. Fashion: Everyday Magic by Emily Albright
A lot of stories are about going against your parent's wishes and perusing your own passion. That's also true for Maggie McKendrick, who dreams of becoming a fashion designer, when her dad wants her to become an entertainment lawyer.
Maggie, however, managed to attend Thrippletons School of Fashion and Design in England. While she excels at school and has the opportunity to make close for British royalty, she still can't find the courage to tell her dad the truth. Then something happens that threatens to destroy both her personal and budding professional life. Maggie has to decide if going against her dad's plan is worth it and whether she could be a big name in the fashion industry.
24. Culinary Arts: The Art of French Kissing by Brianna R. Shrum
Carter Lane dreams to be a famous chef. She has her opportunity: a culinary competition for a full-ride to one of the best culinary schools in the country. A group of teens compete in competitions similar to those found on Chopped. One problem: Reid Yamada won't leave her alone. He tries to sabotage Carter to ensure himself as the winner. But, Carter won't let this stop her…until they learn they have to work together.
For chefs who dream of competing on TV, read this book! Nerd out about all the culinary talk and dream about one day being able to show off your skills. Plus, the cover has adorable macarons which make us hungry! Chefs, let us know if you ever audition for a cooking show. We'll be sure to watch.