Here are the YA books we can't wait to read in 2020! Did we miss any amazing YA books? Let us know in the comments which books of 2020 you are most looking forward to reading! We're always open to add more to our TBR pile. 
1. Chain of Gold (the Last Hours #1) by Cassandra Clare
As we've said before, we read every Shadowhunter book the moment it is released. Chain of Gold is set in Edwardian London and follows James Herondale, son of fan favorites Tessa and Will! The book will be released on March 3, 2020— so mark your calendars! 
2. Blood & Honey (Serpent and Dove #2) by Shelby Mahurin
It's rare for a debut novel to impact us as much as Serpent and Dove did. Our favorite book of 2019 left us waiting in anticipation for a sequel. A witch and a witch hunter fell in love and the world will never be the same. Lou and Reed's story will resume in Blood & Honey September 1, 2020.
3. Chasing Lucky by Jenn Bennett
Jenn Bennett's contemporaries make us swoon. Chasing Lucky gives us major Alex, Approximately vibes, which is our favorite book from the author! Add in the fact that it's set in a beach town in New England and we can't wait for May 5, 2020. 
4. Hand on the Wall (Truly Devious #3) by Maureen Johnson
If you are a fan of Truly, Devious, you've been impatiently waiting for Johnson to wrap up the trilogy and learn the truth about Ellingham Academy. Stevie thinks she solved one of the greatest murder mysteries of all time. Travel back to Vermont and see what surprises this mystery has in store for us in Hand on the Wall on January 21, 2020. 

5. One of Us is Next by Karen M. McManus
McManus became a big name in YA overnight. One of Us is Lying had the perfect mix of mystery and heart to leave readers dying for more of Bayview High School. A few years later, McManus has the sequel we've all been waiting for. New and old characters come together for a terrifying game of truth or dare…with detrimental consequences. Plan on a trip to the bookstore soon because One of Us is Next is out January 7, 2020. 
6. Moment of Truth by Kasie West
2019 was the year we fell in love with Fame, Fate and the First Kiss. Now, we get a companion novel based on Grant James's character Heath Hall. We're excited for another West contemporary and hopefully Moment of Truth leaves us gushing from the adorable romantic tropes. March 3, 2020 can't come soon enough. 
7. My Calamity Jane (The Lady Janies #3) by Cynthia Hand, Jodi Meadows and and Brodi Ashton
These authors tells the stories of women named Jane. We've already read about Lady Jane Grey and Jane Eyre,— now we move to the wild west to learn about Calamity Jane. Welcome to 1876. You'll have to wait until June 2, 2020 to read the third book in this installment.
8. The Ballad of Songbirds and Snakes (the Hunger Games) by Suzanne Collins
Every YA reader, we assume, has read The Hunger Games…more than once. Years after the release of Mockingjay comes a prequel set 64 years before Katniss volunteers to save Prim in the Hunger Games. This exciting insight into Panam's past won't be on the shelves until May 19, 2020. 
9. Clique Bait by Ann Valett
Clique Bait is described as Pretty Little Liars meets Burn for Burn. A story of revenge and unplanned romance has us excited for this debut author. Chloe vows to make the popular clique pay for how they tortured her friend…but some unplanned obstacles get in the way. You'll have to wait until April 28, 2020 to learn Chloe's fate.
10. What I Like About You by Marisa Kanter
Kanter asks through her book if a love triangle can have only two people. Well, it can if your name is Halle Levitt. Online, Halle is Kels, who is everything Halle is not: confident and popular. Kels has no problem flirting with Nash. But what happens when real-life Halle falls for him, but he is in love with an online fantasy? We're ready for this creative love story set to release this spring. Mark your calendars for What I Like About You coming April 7, 2020. 
11. Majesty (American Royals Number 2) by Katharine McGee
Is America ready for its first Queen? We sure are! Beatrice adjusts to her new life, Samantha is still the party princess, Daphne continues her climb to the top and Nina tries to move on. September 3, 2020 can't come soon enough for this anticipated sequel of American Royals to release. 
12. Influence by Sara Shepard and Lilia Buckingham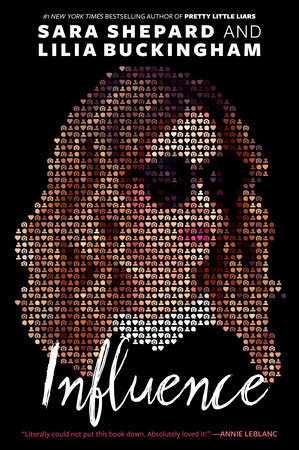 The author of the Pretty Little Liars series is back for another mystery. This story focuses on social media influencers and what goes on behind the screens. We can't for June 30, 2020 to read Influence, which is expected to be full of plot twists and suspense. 
13. All Your Twisted Secrets by Diana Urban
A group of very different students received an invitation for a scholarship dinner…only it's a trap. They must work together to understand why someone would hurt them or risk the captor's ultimatum. This spooky thriller will be available starting March 17, 2020.
14. The Upside of Falling by Alex Light
If you love the fake dating trope, then you'll need to read Becca and Brett's story. The two go from strangers to "in love" over night. But could this fake relationship mean more to both of them? Find out on February 18, 2020.
15. I Killed Zoe Spanos by Kit Frick
We love a good thriller and this novel is being marketed as "the YA thriller of the summer." Psychological twists and suspense? Sign us up! The story follows Anna Cicconi, who has recently moved to a small village in the Hamptons for the summer to take up a nannying gig. Anna's arrival comes shortly after the disappearance of local girl, Zoe Spanos— who looks eerily similar to Anna. Are the two girls connected? I Killed Zoe Spanos will be released on June 2, 2020. 
16. Lucky Caller by Emma Mills
We've read a few of Emma Mills's novels and they do not disappoint! Lucky Caller follows Nina, a high school senior enrolled in a broadcasting class. When she joins a radio team with her classmates, she realizes they have nothing in common— and worse, her childhood friend Jamie is in the group, and Nina promised she would avoid him at all costs or the rest of eternity. Mills's novels are light and charming, but always tackle important issues. We can't wait to see how Nina's story unfolds. Pick up Lucky Caller on January 14, 2020! 
17. Yes No Maybe So by Becky Albertalli and Aisha Saeed
We are super politically active, so when we saw the description for this book we knew we had to read it! The story follows Jame Goldberg, a high school student volunteering for his local state senate candidate, and Maya Rehman, who is forced to volunteer for the same campaign by her mother after her parents announce their separation. The duo are thrown into canvassing together as they master local activism and navigate cross-cultural romance. With election season around the corner, this novel looks like it will tackle important themes. You can pick up Yes No Maybe So at your local bookstore on February 4, 2020.
18. House of Earth and Blood by Sarah J. Maas
We will read anything Maas writes, so when we saw she had a new book coming out we jumped to add it to our TBR list. House of Earth and Blood is marketed as a story about half-fae and half-human Bryce Quinlan, who seeks revenge in a "contemporary fantasy world of magic, danger, and searing romance." First of all, these are all things we love. Second, Maas is an incredible writer known for her excellent character and plot development. We can't wait to pick this up on its book birthday— March 3, 2020!