Want to travel the world? Us too! Unfortunately, we don't always have the time or money. Reading can be the best escape to travel to far away lands. To help inspire your wanderlust, we came up with a list of YA books set in countries around the world. Did we miss any countries that you can think of a YA book for? We'll update this list if we find others. Let us know your favorites in the comments and happy travels!
Afghanistan: The Wrath and the Dawn by Renée Ahdieh
Set in the site of modern-day northwest Afghanistan known as Khorasan, The Wrath & the Dawn is a reimagining of the classic Middle Eastern folk tales, Arabian Nights. Every night that Khalid, the eighteen-year-old Caliph of Khorasan, takes a bride, they die. When Shahrzad volunteers to be his next bride, she realizes that Khalid is not the monster she imagined him to be.
Austria: Wanderlost by Jen Malone
While Aubree visits many countries in this European adventure, her time in Austria is memorable. She visits Vienna and Salzburg, where she goes on a Sound of Music tour. Wanderlost is perfect for people who want to explore Europe ASAP.
Bangladesh: The Love & Lies of Rukhsana Ali by Sabina Khan
Rukhsana has learned to hide her life from her conservative parents. But when they catch her kissing her girlfriend, they send her to Bangladesh.
Belize: Wanderlove by Kirsten Hubbard
In Wanderlove, Bria signs up for a tour of Central America…except she picked the wrong one. Instead of hanging out with peers, she's with middle-aged tourists. When Bria meets an experienced backpacker, she leaves the tour in hope of finding adventure.
Brazil: Origin by Jessica Khoury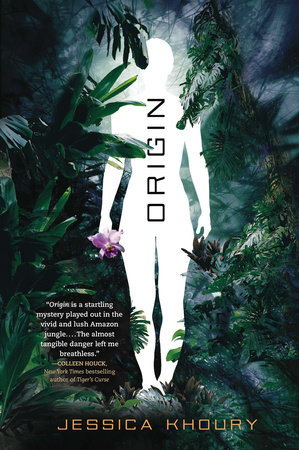 Pia was created in a lab in the Amazon Rainforest. One night, she escapes and has a lot to discover about herself and the world around her.
Canada: Summer Constellations by Alisha Sevigny
Set in a beautiful lake community in Canada, Summer Constellations will have you ready to spend your summer off the grid and by the water.
China: The Lost Book of the White by Cassandra Clare and Wesley Chu
In the second book of The Eldest Curses, Magnus Bane and Alec Lightwood travel to Shanghai, China to stop an evil warlock. The couple experiences the local culture and food scene, even though it gets interrupted when they battle demons.
Costa Rica: Girl Off the Grid by Jillian Dodd and Kenzie Harp
Fashion blogger Camille thinks this all-expense paid trip to Costa Rica will be about tanning on the beach. But Camille doesn't understand it's an eco-trip and she can't use social media while she's there.
Denmark: 13 Little Blue Envelopes by Maureen Johnson
While Ginny gets to see other countries, not many YA books feature Denmark. Here, discover the gems of this country in Northern Europe. You might find yourself packing your bags to Copenhagen.
Egypt: The Ends of the World by Maggie Hall
In the last book of the Conspiracy of Us trilogy, Avery and her friends explore an ancient tomb in Alexandria, Egypt. This book will make you Google flights to this North African country right away.
France: Anna and the French Kiss by Stephanie Perkins
What's Paris without Anna and Etienne? This classic YA romance is about love, friendship and the magic of Paris. Anna and the French Kiss is the perfect read before your trip to France.
Germany: The Book Thief by Markus Zusak
While not a happy book on this list, The Book Thief tells the story of World War II, an important time in history. Those interested in historical depictions should pick this up.
Greece: Sophomore Year is Greek to Me by Meredith Zeitlin
Zona's dad's job makes them to move to Greece for six months. Goodbye NYC, hello Athens!
Ireland: Love and Luck by Jenna Evans Welch
The companion to Love and Gelato follows Lina's best friend, Addie, on a road trip through the Irish countryside. Don't worry, the MC also experiences Dublin.
Israel: How to Ruin a Summer Vacation by Simone Elkeles
Amy never expected to be in Israel with her estranged Israeli father…but here she is for the summer. Now, she's stuck in a foreign country with a family she doesn't know and only one bathroom— but maybe it won't be so bad.
Italy: Love and Gelato by Jenna Evans Welch
Lina had a tough year…and now she moves to Florence to live with the dad she never knew. People come for Italy for love and gelato, but they stay for family.
Japan: Seven Days of You by Cecilia Vinesse
With seven days left living in Tokyo, Sophia has a lot to do before she has to move back to the United States…including falling in love.
Moldova: The Sisters of the Winter Wood by Rena Rossner
This magical fantasy set on the border between Moldova and the Ukraine will make you excited to experience the charm of Eastern Europe.
New Zealand: Antipodes by Michele Bacon
Erin's lost everything: her boyfriend, her friends and her position as swim team captain. Going to New Zealand is her way of starting over and broadening her worldview.
The Netherlands: The Last Little Blue Envelope by Maureen Johnson
Another book that is set in multiple counties. However, you'll love the scenes in the Netherlands. Join Ginny in this fun and unique city full of canals.
Poland: The Librarian of Auschwitz by Antonio Iturbe
The Librarian of Auschwitz tells an important story about a fourteen-year-old girl imprisoned at Auschwitz during World War II. When Dita Kraus is tasked with keeping eight precious volumes, she becomes the librarian of Auschwitz.
Romania: The Lady Rogue by Jenn Bennett
Magic? Check! Romance? Check! Adventure? Check! Don't miss this historical fiction set in 1920s Eastern Europe.
Russia: Romanov by Nadine Brandes
For history buffs, don't miss this happier retelling of Anastasia Romanova's life. Sure, it's sad, but this story includes magic and romance. Check out our full review!
Spain: The Summer of Us by Cecilia Vinesse
While Aubrey and her friends visit multiple countries, none are quite as memorable as the ending in Barcelona, Spain. Sagrada Familia makes the perfect backdrop for a friends to lovers trope.
Switzerland: A Castle in the Clouds by Kerstin Gier
Spend the holiday season staying in a luxury hotel in the Swiss Alps. Well…the MC is an intern at the hotel, but she still enjoys her time in the fairy tale mountains. This book released in the United States on January 28, 2020.
Taiwan: Loveboat,Taipei by Abigail Hing Wen
When Ever finds herself shipped off to Taipei for the summer to study Mandarin, she thinks it's the end of the world. While there, she reconnects with her culture, discovers herself, and falls in love along the way.
Turkey: The Conspiracy of Us by Maggie Hall
Avery doesn't get to spend all of her time in Istanbul, but a dramatic treasure hunt through Hagia Sofia presents a fascinating tale of Turkish history and culture. The Conspiracy of Us is one of our favorite book series.
United Kingdom: The Infernal Devices by Cassandra Clare
Explore Victorian London in this best-selling series set within the Shadowhunter universe. You'll find yourself falling in love with both London and Will Herondale.