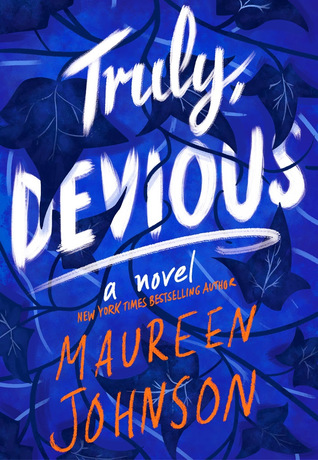 The Truly, Devious series by Maureen Johnson comprises three books: Truly, Devious, The Vanishing Stair, and The Hand on the Wall. In honor of the third (and final *BRB SOBBING*) book's release on January 21st, we thought we'd review the entire series for you. Trust us when we say that if you have not read this series, you are missing out!
Resident true crime expert, Stevie Bell, attends the Ellingham Academy— site of the infamous Ellingham kidnappings of the early 1930s. Shortly after Albert Ellingham opened the Academy, his daughter and wife were kidnapped for ransom, disappearing without a trace. The case's only real clue was a mocking riddle signed, "Truly, Devious." Flash forward to the current time period and no one has solved the case— that is, until Stevie makes the decision to attend the Academy with the sole purpose of busting it wide open. Stevie's plan is complicated when a new string of murders— yes, multiple murders!— occur on campus. Will Stevie, with the help of her friends, David, Janelle, Vi, and Nate, solve the Truly, Devious case and the latest Ellingham murders before she meets the same fate? 
To keep this review short and sweet: we love this series. It has it all: murder, suspense, wit and sarcasm, charm, and romance.
We were immediately drawn to the story because of the stellar writing. Johnson truly knows how to captivate a reader's attention— and boy did she have us hooked from start to finish! The plot never felt rushed, the pacing of the big reveals were well-timed, and there was no filler or fluff. The story arc over the three books was also well executed. Johnson had to wrap up two substantial mysteries over the series. She managed to not only impressively tie both together, but also left us with a satisfying ending to the series. Don't worry, our MC won't die unexpectedly a la Divergent, we promise! (We still have trust issues from that series ending if you can't already tell…)
Now, let's talk characters. Stevie was in a league of her own when it comes to well-written and developed MCs. She was fierce, brave, and witty beyond belief. Talk about a strong female protagonist! Her romance with David never felt forced, and we particularly loved their banter. Who doesn't enjoy a hate-to-love trope!? The supporting characters also added to the story nicely. Nate, an aspiring writer, provided dry sarcasm and was Stevie's level-headed partner in crime. Janelle, Stevie's mad scientist best friend, was the moral compass. And David Eastman….ah, do we love a sarcastic bad boy with a destructive side. Their relationship was complicated, but boy do we ship them hard! 
We loved that Johnson brought diverse viewpoints to the story. Vi, Janelle's partner and a member of Stevie's inner circle, uses they/them pronouns. Johnson explored Stevie's mental health, shedding light on the realities of living with anxiety and panic disorders. We wish more authors would incorporate these important topics into their work!
So…have we convinced you to read this series yet? All three books are on bookshelves today. Definitely pick them up so that you can read them back-to-back (trust us, you will be dying for the next book immediately)!
Let us know your thoughts on these books in the comment section below.
Rating: ⭐⭐⭐⭐⭐/⭐⭐⭐⭐⭐