Witty and Sarcastic Bookclub inspired this post. We picked a favorite YA book for every letter of the alphabet. Look through your read shelf on Goodreads and write your own list. Let us know which of these book you've read! This is also the perfect list to build up your TBR if you're currently staying indoors. Happy reading!
A: Alex, Approximately by Jenn Bennett
As one of our favorite contemporaries ever, it will make you swoon the entire time. This books has romance, humor and complex family dynamics. Plus, who wouldn't love Porter Roth?
B: By Your Side by Kasie West
When two very different people are locked in the library for an entire weekend, it's bound to be interesting. Also, they both learn not to judge a book by its cover. Not only does West write an amazing romance, she also portrays realistic characters who deal with mental health. Find out ranking of West's books here!
C: Clockwork Angel by Cassandra Clare
The best fantasy of all time had to make our list. Will, Tessa and Jem are the perfect trio. They'd do anything for each other and to protect the Shadowhunters. If you still haven't read it, now is the time to order it. Clare's latest book Chain of Gold came out this month.
D: Don't Look Back by Jennifer L. Armentrout
Need a thriller that will keep you guessing until the end? Try to piece together who killed Cassie in this book full of twists and turns. Sam's life changed forever when she woke up in a hospital with amnesia. As she tries to remember the events of that fateful night, she might find things she wish she left alone.
E: Every Day by David Levithan
A wakes up in a new body every day. A is used to this existence and never gets too attached to people. One day though, A meets Rhiannon and falls in love. Now, A will do everything to get back to her and prove that true love can overcome all obstacles. Levithan wrote a challenging book that will constantly make you think. Pick this up for an intellectually stimulating YA.
F: Falling Kingdoms by Morgan Rhodes
Told from multiple POVs, this fantasy series follows Cloe, Jonas, Lucia, and Magnus as war threatens to break out across Mytica. The group is brought together by betrayal, murders, alliances, and love. There are six books in this series, and good news: they're all available at your nearest bookstore (or Amazon). Definitely check it out if you're looking for a new fantasy series!
G: Gallagher Girls by Ally Carter
This entire series for YA fans who love badass female characters who take down the bad guys. Set at an exclusive school in Virginia, the Gallagher Girls can take on anyone. Plus, these books have amazing female friendships…and one of our fave romances ever!
H: Half-blood by Jennifer L. Armentrout
We've written about this series before on our blog, so you can read our full thoughts here. This series has it all— romance, Greek mythology, and action.
I: If There's No Tomorrow by Jennifer L. Armentrout
Tragedy strikes and the characters are trying to learn about loss, love and everything in between. Check out our review here.
J: Just Breath by Cammie McGovern
This book is pitched as perfect for fans of Five Feet Apart. The story is about David, a senior battling cystic fibrosis, and Jamie, a quiet sophomore struggling with depression.
K: Kingdom of the Wicked by Kerri Maniscalco
Okay, so this book hasn't released yet. Still, it's something we're dying to read and Maniscalco doesn't disappoint. We're ready for this historical YA set in Italy.
L: Lady Midnight by Cassandra Clare
Another book in the Shadowhunter universe, except this is set in 2012 in Los Angeles. Emma and Julian have been best friends forever. However, that friendship is challenged with a war on the horizon.
M: My Lady Jane by Cynthia Hand, Brodi Ashton, and Jodi Meadows
This book is a historic re-telling about Lady Jane Grey, cousin of King Edward. Follow Jane as she prepares for her wedding and tries to help her beloved cousin Edward before he falls victim to a conspiracy.
N: Naturals by Jennifer Lynn Barnes
The Naturals tells the story of gifted seventeen-year-old profiler, Cassie, who is recruited with other teens for the FBI's newest project, the Naturals program. The Naturals program recruits only the best and brightest teens. Their task? Unlocking infamous cold cases using their special talents.
O: One of Us is Lying by Karen McManus
A murder mystery every YA fan needs to read. A classic whodunit where five students enter detention and only four come out alive. Who should we believe? Can we trust any of them?
P: Prep School Confidential by Kara Taylor
The Prep School series is reminiscent of Gossip Girl but with murder. Anne was sent away to boarding school in Massachusetts. Right after she arrives, her roommate ends up dead. Should she be worried that she's next?
Q: Queen of Air and Darkness by Cassandra Clare
The last book in the Dark Artifices series doesn't disappoint. See how Emma and Julian's story ends.
R: Red Queen by Victoria Aveyard
Mare Barrow hooked fans right away as she tried to change the world. People either have silver blood or red blood. Those with silver are superior and have powers. They rule over the lower classes. Mare will do anything to change this.
S: Serpent and Dove by Shelby Mahurin
Our favorite book of 2019! This fantasy far exceeded our expectations. Learn what happens when a witch and a witch hunger get married. You don't know who you can trust.
T: Truly, Devious by Maureen Johnson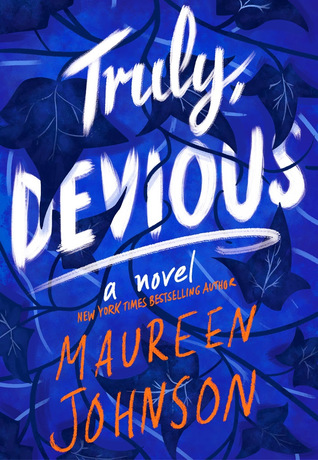 Resident true crime expert, Stevie Bell, attends the Ellingham Academy— site of the infamous Ellingham kidnappings of the early 1930's. The case's only real clue was a mocking riddle signed, "Truly, Devious." Flash forward to the current time period and no one has solved the case— that is, until Stevie makes the decision to attend the Academy with the sole purpose of busting it wide open.
U: Unearthly by Cynthia Hand
Clara Gardner is part angel. Along with faster reflexes, being smarter, and stronger than humans, she also is put on earth to fulfill a purpose. Too bad she has no clue what her purpose is. This is an oldie but a goodie YA novel with a killer romance!
V: Vendetta by Catherine Doyle
Five mysterious Italian guys move to town and Sophie's life changes instantly. That's because they are in the Mafia and Sophie can't seem to stay away from Nic and Luca Falcone.
W: Whatever Life Throws at You by Julie Cross
Baseball fans will love this book about a rookie pitcher and the daughter of the pitching coach. The bonus, the MC, Annie, is also an athlete. She is a track star! She never expected to fall for the one guy who is off limits.
X: XVI by Julia Karr
At sixteen, every girl gets XVI tattooed on their wrists. While some girls cannot wait to turn sixteen, Nina has other ideas. When Nina's life changes as she knows it, she relies on a boy, who may hold the key to her past, to help her.
Y: Yes No Maybe So by Becky Albertalli
Politics is everything in this book. Two teens set out to campaign for a state senate candidate and learn about political activism.
Z: Zombies vs Unicorns by various authors
Check out this collection of short YA horror stories by many authors, including Holly Black and Cassandra Clare!