We're so excited that we had the opportunity to interview Lynn Painter before the release of her debut YA book Better Than the Movies. If you love rom-coms, pick this one up when it releases on May 4, 2021.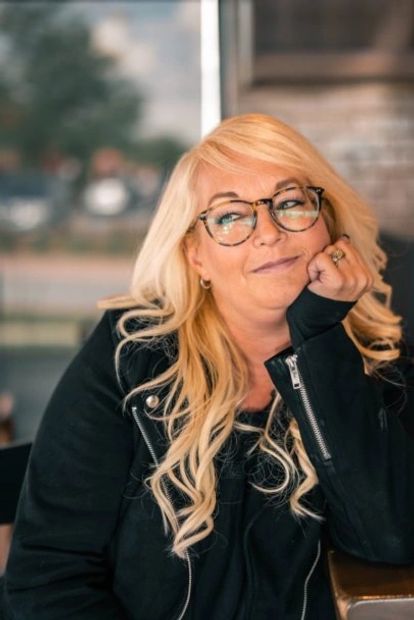 1. When did you first realize that you wanted to be a writer?
Growing up, I was a voracious reader who constantly had a book in my hand. Spelling and reading came naturally to me in school, and I always enjoyed writing assignments. Lit was always my favorite subject.
So how didn't I know? Why did it never occur to me? Pick up a pen, past Lynn! It wasn't until after I was married and had a baby that my sister said, "I saw an author on Oprah. You read all the time – maybe you should write a book."
It was an absurd statement, but I actually started writing my first (awful) book that very week. I guess I owe Oprah Winfrey a huge thank you!
2. What inspired you to write Better Than The Movies?
BETTER THAN THE MOVIES is a rom-com inspired by all the classic rom-coms. I grew up watching them with my mother, like Liz, and the book is kind of a fun play on how someone's worldview and expectations can be completely skewed – for better or worse – by being raised on a steady diet of happily-ever-after's.
3. Which character do you relate to most in your book?
I definitely relate to Liz, the main character. Back in the day, she was a dorky, silly-hearted little girl who did things like make-up songs and perform them for the neighborhood kids (who SO didn't care and peppered her with dodge balls while she sang).
But now (senior year), as Liz attempts to convince those same neighbor boys that she's no longer the "little weirdy" and is actually very normal (and cool), she continuously puts herself in embarrassing situations by trying too hard.
Been there, done that, Lizzie.
4. What are you hoping readers will take away from Better Than The Movies?
I think the reason rom-coms are popular because it is absolute escapism. You get to watch – and laugh – as things go embarrassingly wrong for the main character. It's okay to be wholly entertained by the cringe because you are guaranteed that happy ending.
So I hope when readers travel along with Liz on her ridiculous plan to land her childhood crush, they get to laugh. Hard. And I hope they get to smile when Wes, her irritating next-door neighbor, calls her out on her overblown romantic notions while going along with her straight-from-a-rom-com scheme.
Basically, I want readers to feel like they escaped to a funny, happy place for a few hours.
5. What are your favorite Young Adult books?
This is a hard one because YA is just *chef's kiss* in my opinion. If I'm looking back, I love all of the John Green classics, I can always re-read the Hunger Games series, and The Sun Is Also A Star was a perfect book.
Rachel Lynn Solomon and Jenn Bennett are auto-buy authors for me (I'm still obsessed with Neil and Rowan from Today Tonight Tomorrow), as is Neal Schusterman, but I just finished The Grace Year and was absolutely WOW-ed by it, so I'll call it my favorite for now.
But I warn you – my favorites change on a weekly basis.
6. What was the most difficult part of the publishing process for you?
Being out on submission was definitely the most difficult. For someone like me, a silly-hearted daydreamer, going out on sub was the stuff of dreams. I mean, editors at multiple publishing houses had my manuscript; how incredible, right? I spent hours fantasizing about book deals and "getting the call" and imagining what I might wear to my book signings.
But my first book was out on submission for a year and a half (that is a looong time). Multiple editors had interest, and a few even took it to their acquisition boards, which basically meant that every few months, it seemed like IT might actually happen. Someone was really interested. Aaaand…then they passed.
Every single time.
That book ended up being shelved and it totally broke my heart. But in true HEA style, less than a year later I was signing the contract for Better Than The Movies.
7. What is the best advice that you have received? Do you have any advice for aspiring authors?
The best advice that I received is to just keep working on the next project. It's hard to remember that when you're in the thick of querying agents and refreshing your email every three minutes, but not only will it give you another manuscript to show should you get an offer of representation, but it provides a much-needed distraction.
The best advice I have for aspiring authors is to ask yourself how what you're writing differs from what else is on the market. It took me a long time to realize that the books I was creating weren't poorly written pieces of trash, but they didn't have a concept unique enough to make them stand out.
For example, if you're writing a women's fiction novel about a woman who goes on a journey of self-discovery after her husband cheats and she's forced to start over – well, it might be tough to get a request for materials on that one. Not that you didn't write a great book, but it sounds like a thousand other women's fiction novels, right?
But if you're writing a women's fiction novel about a woman whose husband cheated and she is THRILLED at this chance to start over because unbeknownst to him, she hated him so much that she was planning to have him killed and now she won't have to, well…that's certainly different, right? (I know it's a terrible example but you get my drift.)
Literary agents receive thousands of query letters every month. If you want them to want to read your book, make sure you have a unique hook.
8. What is your writing process like?
Messy, like me.
When I come up with an idea for a book, I just start writing because by around page 60, I can usually tell if I have enough plot to carry the idea, or if it was just a fun exercise on character development that was going nowhere.
Once I've established it's a go, I begin visualizing my story almost in movie form, using huge (8×8) Post-it notes to document each scene (i.e. Scene #1: Liz walks to car and sees Wes on top of it) from the book. After I have it roughly drafted-out, I slap all of those big neon papers up onto the wall of my office and begin pulling them down, one-by-one, as I work on each scene.
I'm sure my method is probably breaking a slew of old school writerly rules, but it really does work for me.
9. Can you tell us about your books that will be published in 2022?
Of course – I'm so excited about both of these.
The first one is Mr. Wrong Number, an adult rom-com being published in March 2022 by Berkley. Here's a little quick blurb:
Olivia Marshall's life is a mess. She's always been the family screw-up, but she outdoes herself when she accidentally burns down her apartment building while drinking wine and torching the love letters of the boyfriend who dumped her. She's forced to move back to her hometown, and on her first night there, she gets a misdial text from some rando.
Rando: So tell me exactly what you're wearing.
Olivia: Your mother's wedding dress and her favorite thong.
This exchange starts a sarcastic, sexy, banter-filled anonymous texual relationship between Olivia and Mr. Wrong Number. It's perfect because it's fun and doesn't count, but what Livvie doesn't know is that Mr. Wrong Number is actually someone that she sees and talks to every single day in real life.
The second one is The Do-Over, a YA rom-com being published by Simon& Schuster in May 2022. Here's a quick little blurb:
After living through a dumpster fire of a Valentine's Day that includes losing a scholarship, discovering her family is splitting up, and witnessing her boyfriend cheating, Emile Hornby passes out on the couch with her knuckles buried in a quart of consolation Ben and Jerry's. Only when she wakes up, it is Valentine's Day again and her hands are chocolate-free. She is stuck in some sort of cosmic Groundhog Day nightmare that she can't wake up from as she re-watches her boyfriend, Josh, cheat on her day-after-day.
After four Valentinian repeats, she has had it. She decides to embark upon The Day of No Consequences (DONC), where she's going to do and say whatever she feels like because no matter what, she'll wake up the next morning with her sins forgotten.
Bring.It.On.
Ultra-introverted Emilie dumps her boyfriend over the school intercom, yells at the scholarship committee, verbally slays the mean girls and quits her job while also letting her creepy boss know just how bad his breath smells. She boldly asks out Nick, her bad-boy lab partner (in front of the whole class), gets a tattoo that says JOSH SUTTON SUCKS, steals her dad's Porsche for a joyride that results in its impoundment by the police, and she finishes the day by instigating a wild make-out session with Nick in his truck.
Only instead of waking up on yet another Valentine's Day, she's roused in the middle of the night by her angry parents. Somehow the universe has put an end to her day-on-repeat, leaving her to face all of the terrible consequences of the things she did on the DONC.